Acts of Kindness by Iron City
Friday Steve and I were off to Buckeye for the all-important hay run for the Sanctuary Horses. Unfortunately, on the way home one of the tire rimes was damaged, resulting in the tire wobbling as we slowly drove the trailer stacked with hay towards home. Steve stopped the truck several times to tighten the lugnuts, however it was getting worse. We eventually had to pull over on the side of the road and try to figure out what was going to be our next course of action. All the options entailed leaving a month's supply of hay on the side of the road. The prospect of leaving the hay and the trailer left an empty worried feeling in the pit of my stomach.
I looked up and noticed we had parked in front of Iron City Polaris. I went inside their show room to see if there was any way they could help us remove the tire so we could continue home with "the hay". OMG! They said YES! It took three men and some powerful tools to get the rim off the trailer axel. Steve had me go inside and pay them for wonderful service and for their help! The Manager just waved me off ( you know, like guys do then they have been helpful but don't want a lot of lavish praise.) I got back in the truck with tears of joy in my eyes and we headed home.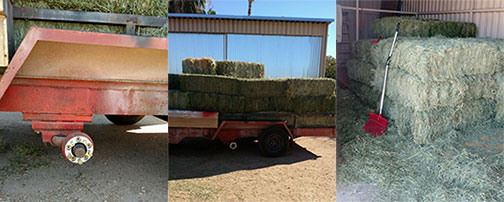 They helped us out of the deep kindness in their hearts. They did not know we are the oldest horse rescue and sanctuary in Arizona. They did not know the hay was for sanctuary horses. They may have only gathered that I was very happy not to be leaving 40 bales of hay on the side of the road.
A Big Thank You, Iron City Polaris Tracy Boen