Melody
A Story of Courage

Melody's Courage.
In people and animals alike, courage comes in many forms. Trusting what you can't see, believing what you don't know, strength to overcoming adversity; and having hope despite it all.
For an American Paint named Melody, courage meant learning to trust humans, learning to trust herself ...and learning just how strong she was.
If you visit the Sanctuary and find a few extra carrots missing from your pocket, you might want to ask Melody. Melody is the ambassador of our herd, the inquisitive, friendly sweetheart that loves people and is always ready to make a new friend. With one blue eye and one brown, she is curious, intelligent, and possessed of a confident, peaceful happiness.
To know her now, you might never guess that five years ago Melody was a very different horse. Apprehensive and untrusting, she had no use for people. In 2002, while living with her original family, Melody suffered a life threatening injury while tied into a wash rack she had never been conditioned to. Having a natural fear reaction, Melody panicked. Trying to escape, she reared back, lunged forward, and flipped over the wash rack suffering ripped muscle tissue on the chest and legs, a crushed and displaced sacrum, a pelvic shear and various structural neurological issues. The decision was made not to put Melody down, advised that recovery could take at least a year. Melody's condition worsened over time developing an atrophied hind end and a stark mistrust of humans.
Melody came to the Beyul Ranch Sanctuary for Horses in August of 2003 where constant love and attention surrounded her. Enormous energy went toward helping Melody heal, learn that she can trust, and that people are inherently good. Much like humans, Melody had everything to do with making this possible.
Despite her kicking and resisting, she noticed her new family wasn't giving up on her, and gradually, she learned to trust the help that was offered. Still in a lot of pain, Melody started to thrive in the structured, loving environment of life at the sanctuary - and began to heal.
As time went on, Melody planned daily periods of rest when she knew Sanctuary staff could help her back onto her feet. She submitted to sessions of shiatsu and chi bodywork, enduring any discomfort to please the people who were helping her. She developed relationships with the other horses at the Sanctuary, and learned normal, good behavior by their example. Finally, Melody became the horse she always was, and joined the herd as the loving, playful, inquisitive child of the bunch.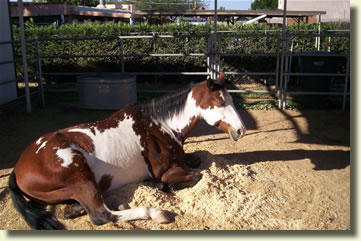 One year after coming to Beyul Ranch Sanctuary for Horses, Melody's pelvis moved back into place. Today she wears special shoes and walks with a bit of a twist, but Melody's curiosity and warmth remains unbridled.
By Jill McCabe