Belle
A True Survivor

Belle, a stunning Arabian bay mare, is a true survivor. She was once one of thirty horses at a breeding farm. When the farm's owner began having financial difficulty, he simply stopped taking care of Belle and the other horses that lived there.
The neglect Belle endured was nothing short of tragic. When she was initially rescued by Lisa Busch, Belle was barely alive. Two other horses in her pen were not as lucky. Belle lived alongside their bodies for an unknown period of time. In all, ten of the farm's horses had died; nine were so ill that they had to be euthanized.
Belle's luck began to improve when she went to live with her foster mom, Diana. Just as Belle was beginning the road to recovery, she experienced another setback when she contracted West Nile virus. She summoned the little strength she had left and, with Diana's help, eventually made a full recovery. Belle's determination to live may have been due to one important fact: she was pregnant. Her tenacity finally paid off when she gave birth to her son, Dollar, this past Father's Day. He is living proof of Belle's triumph over adversity.
Today, Belle and Dollar live peacefully at Beyul Ranch. According to Tracy, Belle is the "Zen master" of the horses, and possesses a gentle wisdom and patience. Perhaps this is because Belle knows she has succeeded in her journey to safety, and that her son's life will be a happy one.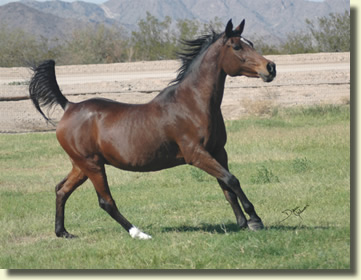 By Anneliese